For many, applying for a record check is just another item on the never-ending to-do list. While record checks are an important part of supporting safe communities (by protecting the vulnerable, supporting financial safety and more), they do require work from the applicant and police service staff to process.
Good news! The application process just got easier for those living in communities policed by the Ontario Provincial Police (OPP). As of June 13, 2022, the OPP will offer online police record checks that are quick, easy and secure.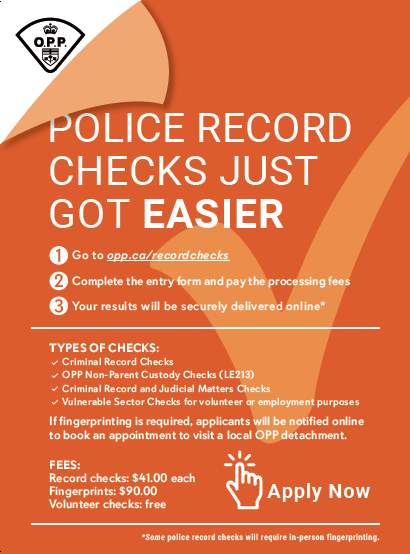 The new online process will allow applicants to apply from anywhere with an Internet connection, any time, day or night. No more trying to get time off work to visit a detachment during business hours. Applicants will be prompted for all required information and documentation throughout the online application process. This means no more driving back and forth if something is forgotten at home. And lastly, automating the process will make it easier for the OPP to process applications. This means faster processing times and more time for detachment staff to devote to other policing matters.
'On average, the OPP completes 140,000 police record checks every year,' says Deputy Commissioner Chris Harkins, Field Operations. 'We are so pleased to launch the new online system, which will significantly streamline the application process for both our members and the public. Moving police record checks online allows the OPP to efficiently and effectively meet the needs of the communities we serve.'
See for yourself how easy the application process is! Visit opp.ca/recordchecks to start your online record check application.